You can help me save the Larkin Gilchrest farm from "development."

+

Most of these pictures were taken on the back end of the farm on October 4, 2006 ---

The farm runs down to the salt water of Long Cove and up Jones's Brook to Route 73. I don't know why you would want to go out there, because it is almost a mile walk each way and everywhere you look the place is cluttered up with big rocks and trees. I suppose walking in the woods might appeal to you if you don't care for the wrestling and game shows on television.

+

In 1970 I bought this farm from one of mother's third cousins. I've never considered myself the owner, but merely the steward who would hopefully pass it along to the next generation, intact and in as good or better condition than when I moved onto it. I think of this farm as Larkin Gilchrest's place. He was a cousin to my great grandfather and if you go out back with a metal detector you can find things Lark lost 140 years ago. I'm still sitting in Lark's chair and using his table.

+

You can preserve Lark's farm from "development." Ten or so years ago I bought an 8-house "development" (which was contiguous to and originally a part of Lark's farm) to shut it down. The beautiful gravel road was already in and the lots were neatly surveyed. Two or three lots were already sold. I bought the lots from the new owners. To buy and preserve the entire piece, I had to remortgage my farmhouse and borrow around $100,000. I want to put these 70 or so acres into the hands of the Georges River Land Trust but don't dare do it because when I'm dead my wife Marsha might need to sell off some of it to make mortgage payments so the bank doesn't seize her home. When that mortgage is even close to being paid off, Lark's farm goes into the Georges River Land Trust.

+

So if $100,000 is pocket change to you and you'd like to have a big rock set up with a bronze plaque on it with your name on it saying that you preserved Larkin Gilchrest's farm for posterity, contact me or the Georges River Land Trust. Think about it --- for less than half of what you'd pay for one of Jamie Wyeth's paintings, you can preserve 70 or so acres on the end of Long Cove.

+

My neighbors on all sides are selling off what used to be woodland for houselots. It is my hope that in 100 years my farm will be to St. George what Central Park is to New York City: it will be the only place in town where you can go to get mugged or ravished.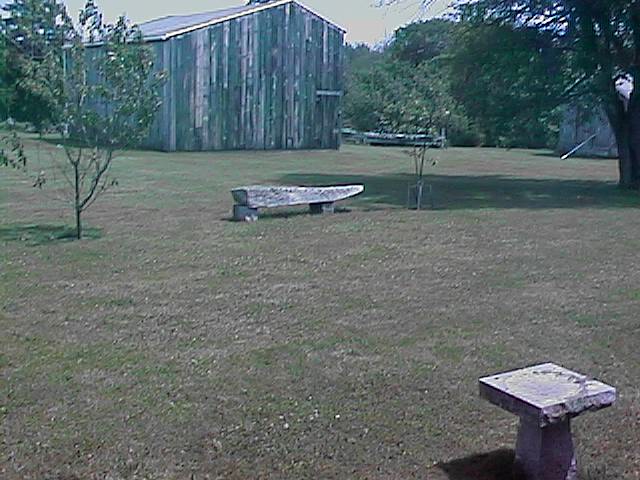 1. This is your starting point --- right off the back steps of the private entrance to your suite.

2. You walk out through the orchard

3. You enter the back field

4. And then you come to the field between the back field and the woods

6.

6.

6.

5. Right about here you leave the fields behind.

6.

7.

8.

9. The end of Long Cove

10.

11.

12.

13.

14.

15.

16.

17.

18..

19.

20.

21.

22. Jones's Brook

23.

24.

25.

26.

27.

28.

29.

30.

31.

Email: thehumblefarmer@gmail.com
---
© 2008 Robert Karl Skoglund